TC2000 Mobile automatically syncs with your personal WatchLists, EasyScans and chart templates from TC2000 Desktop. It includes built-in WatchLists for stocks, indexes, ETF's, Forex and industry groups. FREE for TC2000 Gold and Platinum customers.
See what our customers are saying in the Android Marketplace:
Everything it is designed to be. Better than I expected. If you use TC2000 get this app

Best Android app I've seen for serious traders!

Best charting app I have used....

Awesome app and crazy fast. It's smooth like butter!
TC2000 desktop software has been selected best stock charting by the readers of Stocks & Commodities Magazine for the last 19 years (including 2011). The TC2000 mobile app requires Gold or Platinum service and access to the desktop software from your PC or Mac. Download at www.TC2000.com.
Usage Tips: Select watchlist, tap column header to sort, then tap a symbol to open chart. Swipe to browse charts in sorted order. Swiping up /down changes your chart templates. The time-span buttons on bottom of chart make it easy to zoom in and out. Double-click chart to toggle menus on and off.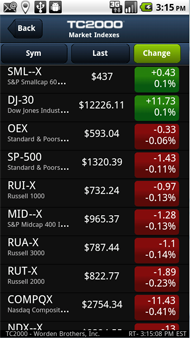 View your WatchLists and EasyScans updated & sorted in Real-Time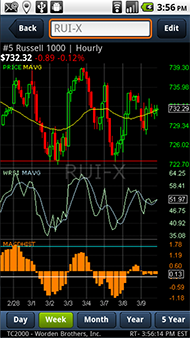 Your charts, your settings, your indicators, your timeframes