StockFinder 5 Features
Charting
StockFinder 5 kills the competition!!

- D.F. Washington D.C.
Fully customizable charts allow you to easily recognize your favorite patterns
Multiple plot styles: OHLC, Bar, Line, Candlestick, Shape, Shaded regions and custom
Plot hundreds of the most popular indicators included in the StockFinder indicator library
Mix and match technical indicators with historical fundamentals like earnings or capitalization
Create your own custom indicators with RealCode - a Microsoft Vb.Net language.
Paint indicators by Conditions or your own custom code
Quickly and easily create custom Market Indexes on any indicator, for any stock list

Display "mini-charts" for each symbol in your WatchList - Show the price action for each symbol in your List!
Tab charts together, or dock in a layout. Supports multiple monitor configurations
Unlimited number of charts and indicator panes
Multiple bar intervals from yearly down to tick and everything in-between
Custom bar intervals like 3/2 day or option expiration Friday
Over 25 drawing tools including Trend lines, Fibs, Fans, Regressions, Channels, Shapes and Text
Save charts, indicators, and conditions to load in multiple layouts, share with friends online or backup to any media
Share charts via email or the StockFinder share feature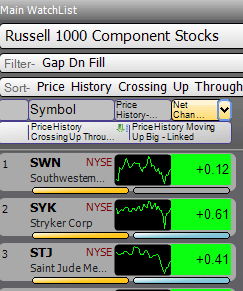 WatchLists
Scan, Sort and Filter from the hundreds of pre-configured industry lists, indexes and personal WatchLists
View streaming data for all items in your list
Scan and sort in real time, no symbol limits!
Customizable columns allow flexible control for layout and coloring. Visualize the data your way
Flag columns allow quick stock organizing to add/remove symbols from personal WatchLists
View any indicator or condition on any bar interval, for any symbol. Scan and sort the results directly in your list
Quickly Sort by any indicator in the Library by choosing it directly from the sort pulldown
Change your list of stocks at any time by simply typing the name of the WatchList. Quick access to any list in the system!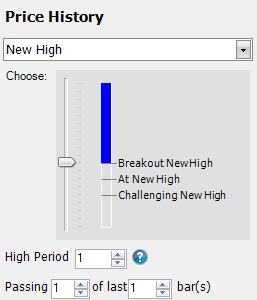 Finding Stocks
Rule-Based Scanning, Sorting and Filtering

Scan and Filter on any indicator for any bar interval
Scan technical indicators and fundamentals for finding the cream of the crop
Perform multiple scans and filters simultaneously
Create visual conditions based on indicators on a chart (two lines crossing, above/below)
Create combo conditions for multiple rules or sequences of rules using AND, OR, AND THEN
Scan "Lights" light up when a condition is passing on a stock
Quickly bring stocks of interest to the top of your list
Scan and Filter multiple charts and bar intervals at the same time
Scan the entire market in Real-time
Stream the entire market to your WatchList. No Symbol Limits
Backtesting with Backscanner™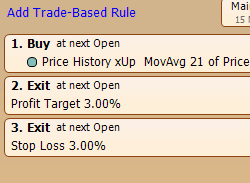 Backtest any indicator or condition on your chart
Backtest a single stock, or a list of stocks. See how your conditions performed over entire industries or indexes.
Apply trade based rules to Buy, Sell, Sell Short, Cover, Exit All, Remain Long, and Remain Short
Apply conditions like trade length, comparison, greater/less than, bars, % re-tracement, trailing stop, profit target, and stop loss
Backtest on multiple bar intervals from yearly down to intraday
Mix and Match bar intervals and indicators in the same test
Backtest for specific date ranges to test bull or bear markets or for the entire 25 year databank
Apply priority to conditions so that some will override others
Produce multiple reports with fields like: #Trades, Return/Trade, Trad/Time, Best Exit, Worst Exit, Winning %, Gain/Loss Ratio, Drawdown and more
Plot backtest results directly on your charts with Trade Signals, Buy and hold line, Symbol Equity line and Symbol Equity vs Buy and Hold line
Other Features
Quickly jump to any Symbol, Company or WatchList by typing the symbol, company name or WatchList name at any time
Hundreds of integrated web browsers to popular finance sites, Displays websites for the active symbol.
Custom web browsers to integrate your own favorite research, blogs and websites. Display your custom site for the active symbol
Drag-n-Drop indicators to overlay, separate panes, create comparisons, view data and create conditions.
RealCode™ editor for creating custom indicators, conditions, paint schemes, scans, sorts, filters and backtests using Microsoft VB.Net syntax.
Created by Worden and the makers of TeleChart, voted best software in it's category since 1993.
Backed by the best technical support in the business. Phone, email, forums and chat support all included.
StockFinder Platinum - $89.99 / month (+ exchange fees)
Entire US market streaming in RealTime. Every Symbol, every tick. No Symbol Limits!
Hundreds of automatically maintained WatchLists, industry groups, ETFs, market indexes, indicators and rules. The entire databank is updated and managed behind the scenes for you, including stock splits, symbol changes, new issues, exchanges
Morningstar historical company fundamental & financial stats. Plot, scan and backtest earnings, capitalization, market cap, dividend yield, earnings per share, and many more
Custom Index creator for making your own T2s and indicators based off a list of stocks
Free Software Download! - Get started right away. No need to wait for the USPS
Free Software Updates. As new features and fixes are finalized, your software is patched automatically
Optimized for home users. All databanks download over High-speed DSL or Cable. No expensive dedicated internet connection required
Works Offline. All data is maintained on your computer for unmatched performance and offline capabilities. Take your laptop on the road and have your databank with you!
What is StockFinder?
Help And Support
Pricing
Platinum

Buy 10 months Get 2 Free
20% Bonus
Buy 18 months Get 6 Free
33% Bonus
Call 1-800-776-4940 to order